Importance of 5S & Lean: How to Create a Visual Workplace
5S is a workplace organization method that is derived from a Japanese manufacturing strategy meaning to sort, set in order, shine, standardize, and sustain. These words describe how to organize a workspace for efficiency and effectiveness by identifying and storing the items used, maintaining the area and items, and sustaining the new order. The decision-making process usually comes from a dialogue about standardization, which builds understanding among employees of how they should do the work. In some companies, 5S has become 6S, the sixth element being safety (safe). Visual Workplace believes the 6S can help tremendously in the overall process, so adopting Safety First is critical and necessary for a productive work environment. Other than a specific stand-alone methodology, 5S is frequently viewed as an element of a broader construct known as visual control, visual workplace, or visual factory.
Lean for Production and Services
Sorting through all items in a location and removing all unnecessary items from the location.
Goals:
Reduce time loss looking for an item by reducing the number of unnecessary items.
Reduce the chance of distraction by unnecessary items.
Simplify inspection.
Increase the amount of available, useful space.
Increase safety by eliminating obstacles.
Implementation:
Check all items in a location and evaluate whether or not their presence at the location is useful or necessary.
Remove unnecessary items as soon as possible. Place a Red Tag on those items that cannot be removed so that are identified and can be evaluated for disposition.
Keep the working floor clear of materials except for those that are in use for production.
Putting all necessary items in the optimal place for fulfilling their function in the workplace.
Goal:
Implementation:
Arrange work stations in such a way that all tooling / equipment is in close proximity, in an easy to reach spot and in a logical order adapted to the work performed. Place components according to their uses, with the frequently used components being nearest to the workplace.
Arrange all necessary items so that they can be easily selected for use. Make it easy to find and pick up necessary items.
Assign fixed locations for items. Use clear labels, marks or hints so that items are easy to return to the correct location and so that it is easy to spot missing items.
Sweeping or cleaning and inspecting the workplace, tools and machinery on a regular basis.
Goals:
Improves the production process efficiency and safety, reduces waste, prevents errors and defects.
Keep the workplace safe and easy to navigate.
Maintain a clean workplace and look for opportunities to eliminate dirt/debris/grime from occurring.
When items are in place and identified, anyone not familiar to the environment must be able to detect any problems at a glance within 15m (50 feet) in 5 sec.
Implementation:
Clean the workplace and equipment on a daily basis, or at another appropriate (high frequency) cleaning interval.
Inspect the workplace and equipment while cleaning.
Standardize the processes used to sort, order and clean the workplace.
Goal:
Establish procedures and schedules to ensure the repetition of the first three 'S' practices.
Implementation:
Develop a work structure that will support the new practices and make it part of the daily routine.
Ensure everyone knows their responsibilities of performing the sorting, organizing and cleaning.
Use photos and visual controls to help keep everything as it should be.
Review the status of 5S implementation regularly using audit checklists.
Sustain is the developed processes integrating team self-discipline. Workplace order should be become a practice of "do without being told".
Goal:
Ensure that the 5S approach is followed.
Implementation:
Leadership and total organization buy-in.
Organize training sessions.
Perform regular audits to ensure that all defined standards are being implemented and followed.
Implement improvements whenever possible. Team inputs can be very valuable for identifying improvements.
Utilize problem solving tools to identify issues, root cause and their cause and implement the changes necessary to avoid recurrence.
A popular misconception is that lean is suited only for manufacturing. Not true. Lean applies in every business and every process. It is not a tactic or a cost reduction program, but a way of thinking and acting for an entire organization.
Businesses in all industries and services, including healthcare and governments, are using Lean principles as the way they think and do. Many organizations choose not to use the word Lean, but to label what they do as their own system, such as the Toyota Production System or the Danaher Business System. Why? To drive home the point that Lean is not a program or short-term cost reduction program, but the way the company operates. The word transformation or lean transformation is often used to characterize a company moving from an old way of thinking to lean thinking. It requires a complete transformation on how a company conducts business. This takes a long-term perspective and perseverance.
Purpose, Process, People
A recommendation is that managers and executives embark on lean transformations think about three fundamental business issues that should guide the transformation of the entire organization:
Purpose: What customer problems will the enterprise solve to achieve its own purpose of prospering?
Process: How will the organization assess each major value stream to make sure each step is valuable, capable, available, adequate, flexible, and that all the steps are linked by flow, pull, and leveling?
People: How can the organization ensure that every important process has someone responsible for continually evaluating that value stream in terms of business purpose and lean process? How can everyone touching the value stream be actively engaged in operating it correctly and continually improving it?
Define Lean as "...a way to do more and more with less and less - less human effort, less equipment, less time, and less space - while coming closer and closer to providing customers exactly what they want" and then translate this into five key principles:
Specify the value desired by the customer. "Form a team for each product to stick with that product during its entire production cycle", "Enter into a dialogue with the customer" (e.g. Voice of the customer).
Identify the value stream for each product providing that value and challenge all of the wasted steps (generally nine out of ten) currently necessary to provide it.
Make the product flow continuous through the remaining value-added steps.
Introduce pull between all steps where continuous flow is possible.
Manage toward perfection so that the number of steps and the amount of time and information needed to serve the customer continually falls.
Lean is founded on the concept of continuous and incremental improvements on product and process while eliminating redundant activities. The value of adding activities are simply only those things the customer is willing to pay for, everything else is waste, and should be eliminated, simplified, reduced, or integrated.
Shop by Applications and Solutions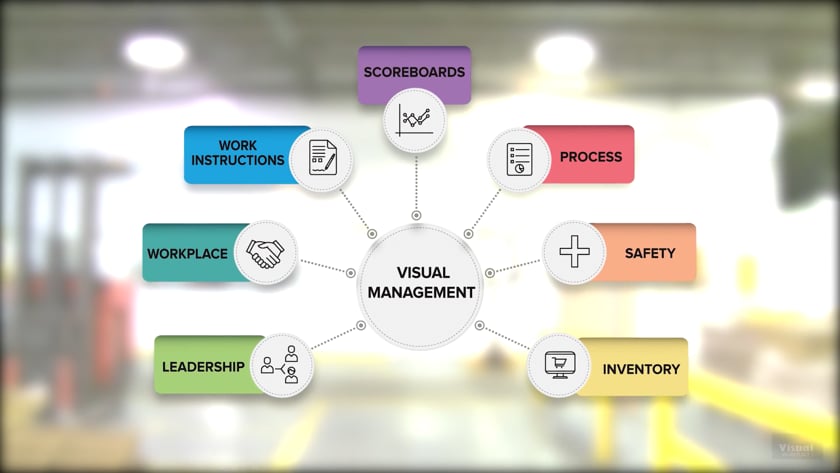 Learn How to Create a Visually Efficient Manufacturing Facility with Gemba Walks