Helping Construction Companies Create a Safe Jobsite
If you work in construction as a foreman, project manager, or site safety manager you need to have quality work done on a stringent time schedule. Organization and Safety are two major components to maintaining your deadlines and producing the kind of safe work environment required for employees and to deliver the project on time and within or under budget. Visual Communication tools are essential to operating efficiently, keeping all projects within their timeline and keeping your employees and contractors informed of dangers that can surround them at any turn.
Road crews and building sites face many dangers with large equipment traffic, cars passing very near to where they are working and using heavy-duty tools. PPE required safety signs can be displayed for both workers and visitors who may be inspecting codes or delivering supplies to keep the job moving. Hart hat decals can be used to display equipment certifications to ensure the person using the equipment has been trained as an operator to avoid accidents.
A-Frame signs can be used to direct traffic to areas that are safe from hazards. In construction, time is money. Lost time accidents, equipment failure and disorganization need to be avoided to keep the job on schedule and visual communication solutions like project planning boards and overlays, checklist boards, are key solutions to reducing the time draining costs.
At Visual Workplace, we support the construction industry from sites to facilities with visualizing, improving and sustaining a safe, efficient work environment. We are your provider of solutions, like lockout tagout, safety tags, safety banners, safety label and decals, safety tags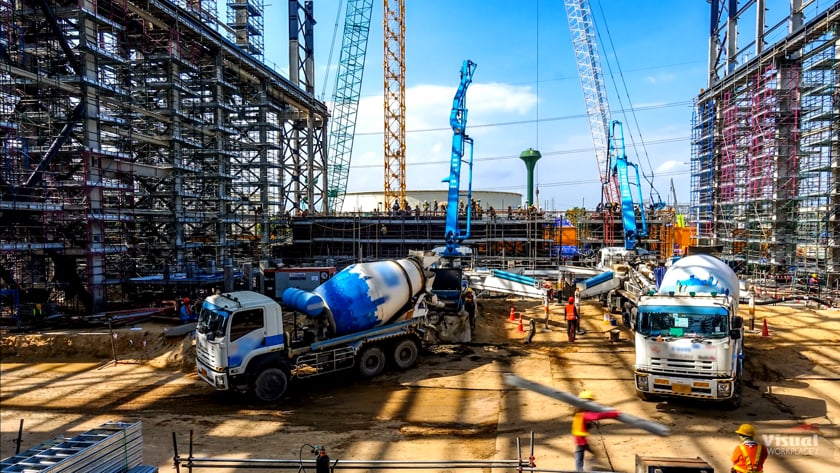 Visual Workplace will work with you to customize your visuals and help you create a safety and efficient facility.
Have a Question?
Call 616-583-9400